Tired of having to laboriously clear the snow with a shovel in the early hours of the morning? Then a modern snow blower could be of great help for you. It saves time and a lot of effort. So you can spend the next snowy winter morning completely relaxed.
Husqvarna is a top brand in the manufacturing of outdoor power tools such as lawnmowers and snow throwers. The Husqvarna ST151, one of its snow blowing machines, is popular among property owners due to its powerful engine and high snow throwing capacity. In this Husqvarna ST151 review, we'll see in detail everything about this snow blower and whether it's worth spending money on.
Specifications
Start type
Recoil, electric
Drive type
Auger propelled
Dimensions (in.)
41 x 21 x 41
Overall Performance and Functions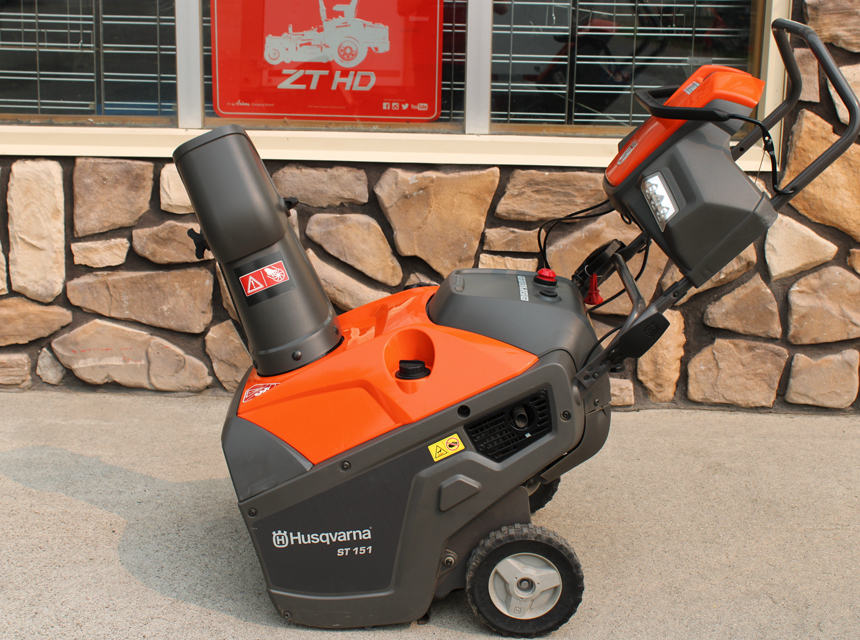 The Husqvarna ST151 is a gasoline-powered snow thrower that is equipped with a powerful 4-stroke engine. It has a power range of around 5.4 horsepower. This makes the device much better suited to removing thick and icy layers of snow.
The petrol snow blower has a working area of almost 165 square inches and enables snow surfaces to be cleared up to a maximum of 7.87 inches high and has a wide clearing of 21 inches. The average throw is here in a range of several feet and is, therefore, a lot higher than with the electrically operated models.
So that you can get the device going quickly, even on cold winter days, it also has an electric starter, in addition to the traditional recoil starter.
Ease of Use
The snow thrower has large, easy-to-use buttons and switches. On cold days, you don't need to wear gloves when operating the snowblower. This is because the ergonomic handle is designed to heat up and warm your hands. So, there's the guarantee you won't be getting cold hands.
Even with thick gloves, your snow thrower should be easy to operate. The clearing of snow is quick and easy thanks to its relatively low weight. Also, starting the engine is easy as it has an electric starter.
However, the snowblower often has to be serviced and, due to its heavyweight, is sometimes not particularly easy to maneuver.
Meanwhile, the advantage here is that the user does not have to rely on a power socket and the petrol-powered snow blower comes with great mobility.
Engine
The Husqvarna ST151 is a single-stage snowblower. It works with a 5.4 horsepower engine or 208 CC.  The engine is powered by gasoline. It has just one impeller but there is no second stage impeller inside. The engine displacement is 208 cubic centimeters.
The snow blower's engine is of premium quality and has the best modern starting technology. The engine is connected to a power outlet. You can start it with the push of a button. Although, like in portable generators, the engine also has a recoil starter should in case the battery the electric starter works with suddenly fails or is not responding.
Plowing Capacity
The snow thrower is equipped with a powerful gasoline engine with no less than 5.4 horsepower. To enable you to make rapid progress even on soft powder snow, the snowblower is equipped with two large drive wheels with a coarse profile.
This snow thrower has heated gripping surfaces so that your hands do not get cold even during long clearing operations.
The powerful petrol engine accelerates the intake auger to a high speed, with which you can remove even icy layers of snow without any problems. The working width of 21 inches also enables you to work very quickly.
The ejection angle of this snow blower is great, whereby the device can throw away the falling snow up to 20 to 25 feet away. This snow blower is even equipped with a special working headlight so that you can clear the snow from your property even in the early hours of the morning.
Power Source
The snowblower runs on gasoline. The downside here is the fuel not only pollutes the environment with their exhaust gases, but the gasoline engine also often causes displeasure among neighbors due to their high noise.
However, the snowblower has a particularly high performance. It has a large clearance width and height so that both large areas and high snow can be cleared within a very short time. Thanks to the powerful engines, even wet snow are no problem for the machines.
As earlier mentioned, the petrol engine can be started conveniently using an electric starter, so that no problems arise when starting and even inexperienced users can operate the machine without any problems
The gasoline engine is fed by a tank size of around 0.37 gallons, which is quite small and may require frequent refueling. In comparison, the Honda HS928WA has a fuel capacity of 1.58 gallons or 5.98 liters.
However, if you can do with this small tank capacity and if you expect heavy snowfall in winter, you are much better off with a gasoline-powered snow thrower like the Husqvarna model.
It is also quite loud during operation, which can put a strain on the relationship with your neighbors. The operating costs are also usually higher here. After all, gasoline is three times more expensive than electricity.
Stage Type
The snow thrower works with a one-stage principle. But what is the one- and two-stage principle for a snow blower? The mode of operation of the various snow blowers only differs in a few criteria. There is the one-stage and the two-stage principle. What is meant is how your snowblower loosens and removes the layers of snow.
The one-stage snow blower is equipped with an auger drive and has a gasoline motor. It has a wheel that digs into the snow, picks it up, and then flings it out again through the chute.
Due to the construction of the snow blower, it should only be used on level surfaces and mostly in fresh snow so as not to be damaged by stones or branches.
Design and Construction
This snow blower has a striking red paintwork and looks very large and robust overall. But what are the dimensions and weight, drive, clearing width and height, and the torque of the machine?
Dimensions and Weight
The Husqvarna ST151 has a large weight of 97.6 pounds or 44.27 kilograms. The dimensions meanwhile are 41 x 21 x 41 inches. At this point, of course, the disadvantages of the petrol snow thrower should not go unmentioned. Because due to its higher weight, it can be a lot more difficult to handle.
Drive
Snowblowers are commercially available with different drive systems, of which we are familiar with three: the auger drives, when drives, and Caterpillar drives.
The Husqvarna model, as explained earlier, has an auger drive system. The auger drive is a screw conveyor that is equipped with rubber studs on the edge. This drive is mostly used in inexpensive devices and requires a certain amount of muscle power.
Clearing Width and Intake Height
The machine offers you a working width of 21 inches, which is more than sufficient for narrow sidewalks and small driveways.
As far as the working width is concerned, petrol-powered snow throwers are generally better positioned. The intake height of the machine is 7.87 inches.
Torque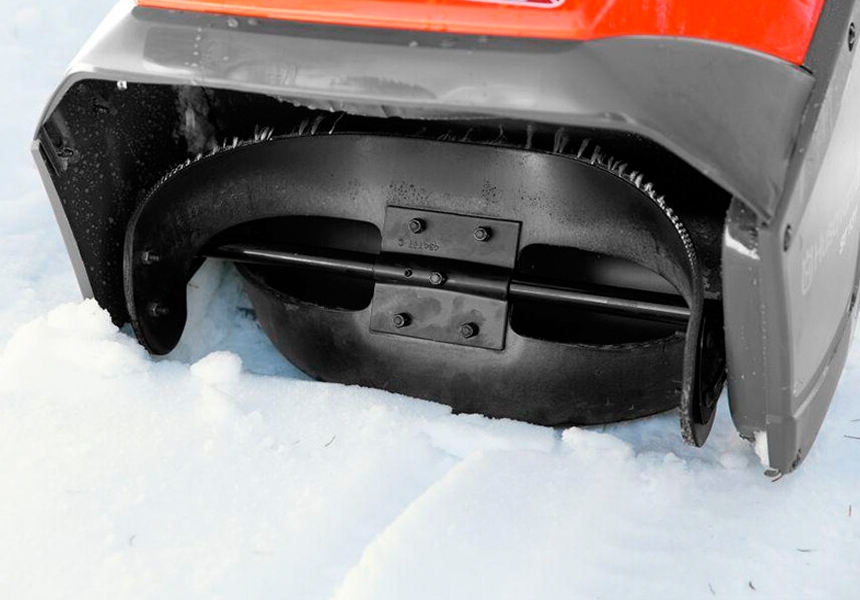 The gross torque of the Husqvarna ST151 snowblower is around 9.5 lb-ft. Still, this is more powerful than you can get with electric models.
Safety Features
Some of the safety features you can find on the snowblower are the LED headlight and the drive system. The headlight ensures you can use the machine in low light conditions while the cleated wheel drive system ensures good propulsion on slippery surfaces.
Ease of Maintenance
The Husqvarna petrol-powered machine isn't the easiest to maintain snowblower. So, you have to do a lot of maintenance to keep it running and give it a long lifetime.
The machine should first be assembled exactly according to the instructions. If you do not have the necessary technical understanding or tools for this, you should rather ask a specialist for help so that no problems can arise later during use. Regular maintenance should also be strictly observed. This is especially important for snowblower models that run on gasoline.
It is advisable to clean the snow blower thoroughly before summer. The snow should be removed well with water so that it doesn't cause damage. You should also clean the fuel filter and empty the tank. The engine oil should also be changed.
Warranty
The Husqvarna is a heavy-duty machine that is constructed to be reliable. However, it comes with a warranty of just one-year limited warranty both for residential and commercial use.
Price Tag
The snowblower is currently available on the market for more than $1,000 but less than $1,500. This is in the upper range level in terms of price as most snow blowers have a price range of $200 to $700.
PROS

CONS

Ergonomic handle grips
Operates comfortably in cold climate
Handle grips warm user's hands
Heavy-duty construction for extended durability
Has a headlight for early morning snow removal
Conclusion
The Husqvarna snowblower is a heavy-duty, efficient, and ergonomic machine that can be used in residential areas during wintertime. As explained in the Husqvarna ST151 review, the gasoline engine brings in additional weight and noise but it ensures a faster and more powerful snow throwing capacity. We, therefore, recommend it for use in garage driveways, pathways, and garden entrances.