Our Ariens Deluxe 28 review was conducted with the idea of finding out just how heavy-duty and pro a homeowner's snowblower could be, and it was revealed that a heavy-weight 2-stages snowblower can tackle the worst that winter has to offer. It runs on gas, but it has an electric start that will not fail you in the freezing temperatures. Its wide 28-inch clearing width does not stop it from making the sharpest turns as it has an exclusive feature called Auto-Turn Steering, which allows you to use the handle to guide the machine. You can also be in more control where you blow your snow with this versatile machine that is self-propelled with 6 forward speeds and 2 reverse speeds, although it is likely in the end that you will only end up using a couple of the forward speeds.
This snowblower can plow through all kinds of snow and not stall or dump snow on the pavement because it has a 21 in. intake height, and its augur is designed, so the long blades of its 14 in. augur don't hit the ground. The snow can be discharged up to 50 ft. away. That is quite a long throw for a lot of snow; efficient and likely a spectacle in itself. Our research for this Aries Deluxe 28 review revealed that it can gouge, hoist, and macerate every snow type, including hard-packed ice.
Specifications
Engine displacement
254 cc
Impeller
14-in. 3-blade steel
Maximum throw distance (ft.)
50
Item dimensions (in.)
48 x 48 x 48
Review
Here is our Ariens Deluxe 28 snowblower review that explores each of its incredible features, including its easy-to-use sturdy mechanical systems, superb 200-degree chute rotation, extra-large rubber wheels, many speeds, and overall versatility and reliability.
Overall performance and functions
The Ariens Deluxe 28 is a deluxe snowblower with about as many features as small motorbikes, including 6 forward and 2 reverse speeds. It is self-propelled as well, which can save your back and muscle aches; you don't have to strain yourself in any way to push it down the driveway. It turns on a dime thanks to its special "AutoTurn Steering" that allows you to grip it by the upper bars and manipulate it while you steer. The chute is operated by remote and rotates 200 degrees. The gear case is made of solid cast iron and houses a state-of-the-art impeller with 14" blades that can remove an astounding 70 tons of snow an hour. Keep in mind that although this machine was built to remove snow from both paved surfaces and gravel, it can occasionally pick up a chunk of ice, a pebble or gravel and throw it as a projectile, simply because it has such a powerful gouging and hoovering ability.
Engine
This is a 2-stage gas-fueled snowblower with an electric starter for the 254cc engine. The engine and alloy steel gears are lubricated with a 1-3 synthetic heavy-duty gear oil that provides continuous reliability for the machine.
Impeller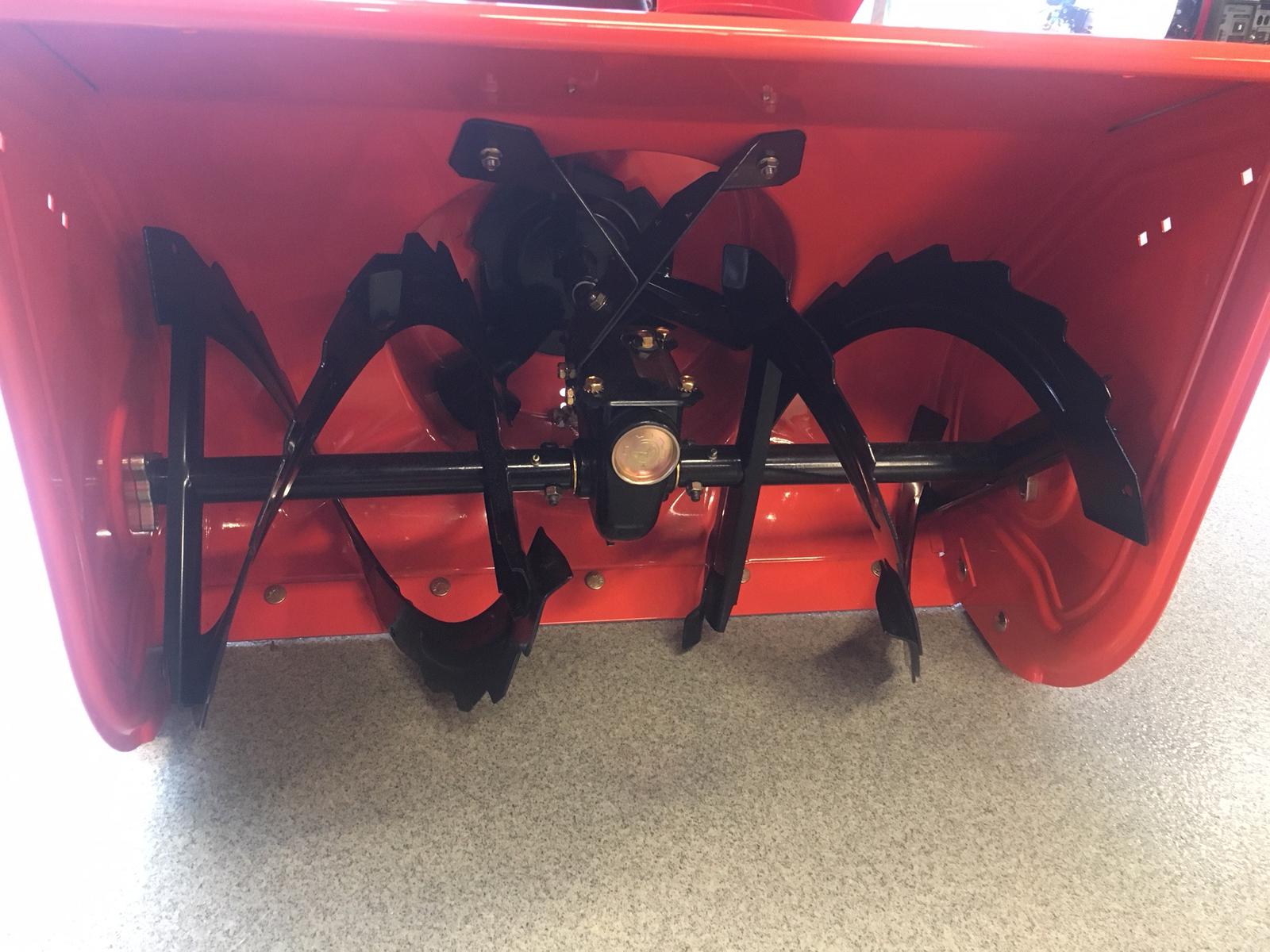 This has a 14 in 3-blade impeller housed in a cast iron gear casing that can throw the snow 50 ft. and remove 70 tons of snow an hour, making it one of the most powerful snowblowers for home use on the market. The augur is very tough with blades that are also 14 inches that can chop, gouge and macerate any type of frozen water from your paved driveway. It is best for paved surfaces but can be used on gravel, but do so with caution as this type of unit can throw stones as well as it can snow.
Power source
There is no need to worry about pulleys or jump-starts as a 120-Volt electric push-button provides an easy and immediate start, even on the coldest of days.
Stage type
According to Consumer Reports Trusted Source Q&A: Which type of snow blower should I buy? Using a snowblower, aka snow thrower, might be easier than shoveling the white stuff, but it is harder than using a self-propelled mower. www.consumerreports.org , a two-stage snowblower is best if you have a long, wide, or hilly driveway and get 8 inches or more snowfalls. Keep in mind that this powerful unit might suck up gravel, which unfortunately can be spit fifty feet away, so make sure that you are not using this in an area where there are pets, livestock, or children playing.
Also, if you are going to use these blades on gravel, keep in mind that although it is designed to handle gravel by having an augur that does not contact the ground, it is still possible that flying bits of rock can also injure you or put dents in your car.
Design and construction
This is a relatively heavy snowblower that practically needs its own parking space, so make sure you have a safe, protected space to store it before you buy. It has an OEM Branded Engine that takes standardize engine parts, and this eco-conscious snowblower is CARB compliant Trusted Source Low-carbon fuel standard - Wikipedia A low-carbon fuel standard (LCFS) is a rule enacted to reduce carbon intensity in transportation fuels as compared to conventional petroleum fuels, such as gasoline and diesel. en.wikipedia.org . CARB compliant equipment produces less harmful emissions, toxins, and particulates and also results in a cleaner and safer air quality.
It has a black and grey chassis with a bright orange chute and cast-iron gear chassis, making it look like a small tractor. The augur with its whirling 14-in. black blades is open at the front, giving it a pseudo-industrial, slightly fierce appearance that makes it look like it is ready to chomp down on and destroy ice and snow. Its rotating chute resembles a frosty bright orange metal chimney.
Dimensions and weight
The Ariens Deluxe 28 is not a frivolous purchase. It is 48 x 48 x 48 in., practically the size of a small tractor, and it weighs 25 pounds. However, because it is self-propelled, you do not have to worry about pushing this snowblower around using your own strength.
Maximum throw distance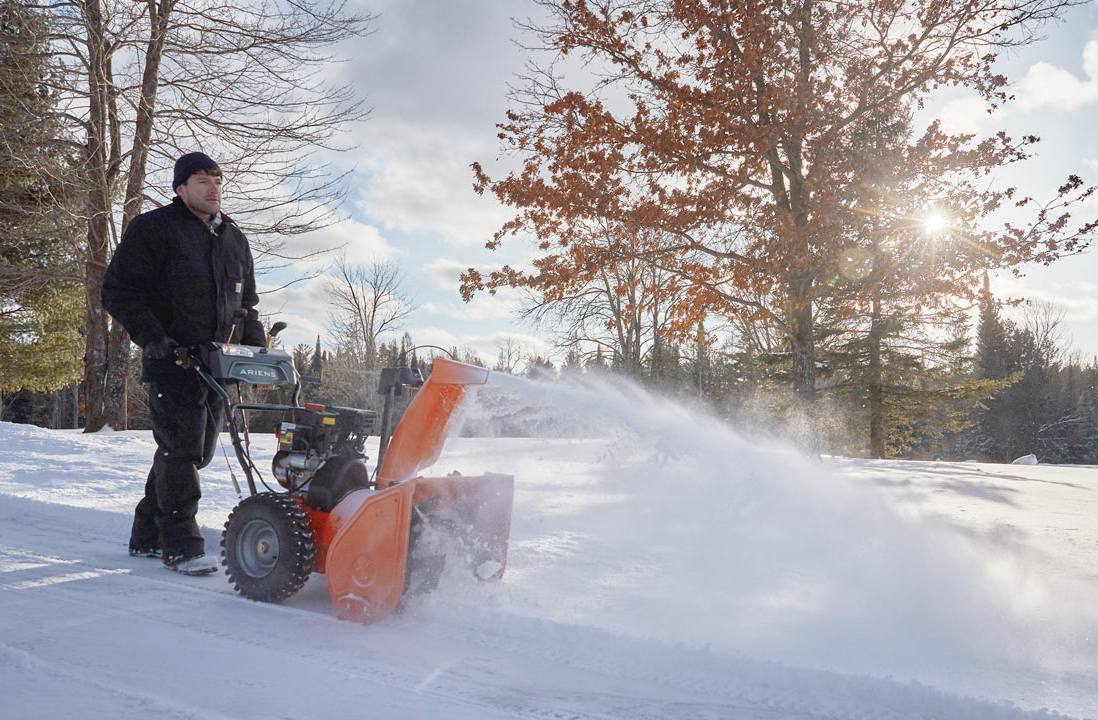 The maximum throw distance of this heavy-duty snowblowers flexible rotating chute is 50 ft., so it is capable of building very tall snowbanks between you and the road and your neighbor.
Clearing width
The clearing width of the Ariens Deluxe 28 is a satisfying 28 in., which means entire paths, decks, and sidewalks are done in minutes on the first pass.
Intake height
The intake height of this hardy snowblower is 21 in., which means it can gulp up about 2 ft. of snow without pause and expel it up to fifty feet away. This is one of the reasons why it is the perfect snowblower to have on hand if you live in a place that gets mounds of snow every winter, or even where you have to plow your own path or lane in from the highway.
Safety features
The Ariens Deluxe 28 comes with a Dead-man control, a critical safety feature that halts the spinning auger when you release the grip control on the handlebars. This can prevent you from accidentally running over a small animal or catching a huge chunk of rock or another obstacle in the maw of the auger.
A large halogen headlight in the dashboard provides safety by allowing you to see clearly where you are going during storms or during dark conditions.
Ease of maintenance
The snowblower is sold to you already filled with the synthetic oil you need to operate the machine steadily for five years. This is also a rust-proof machine that degrade in front of your eyes, even if exposed to a lot of salt on the road, but it is probably a good idea to wipe or rinse the salt off if used on treated sidewalks, driveways or roads.
This snowblower also comes with a stick mounted on the side that allows you to clean out the impeller or clear any jams without having to put your hands anywhere near the Ariens Deluxe massive blades.
Warranty
When you purchase this heavy-duty snowblower, you are covered by a 5-year warranty, which is quite impressive for any type of home landscaping tool.
Price tag
For a snowblower with so many features, the average $1200 price for the Ariens Deluxe 18 seems quite reasonable. It seems to come with everything that you need from grip controls, a pre-fueled and lubricated state-of-the-art engine, and heavy-duty mechanics that offer you pro-level efficiency. In fact, you could probably make quite a bit of your investment back by using this multi-featured snowblower as part of a part-time business that services the walks and driveways of neighbors who need to get cleared after a heavy snowstorm.
PROS
CONS

Clears both paved and gravel
Great price
Pro-level performance
Heavy-duty efficiency

May hurl gravel or ice
Heavy and bulky
Conclusion
After examining all of the features in this Ariens Deluxe 28 SHO review, we have concluded that it is one of the best snowblowers for anyone who lives in a climate that gets a lot of snow, freezing rain, and constant dumping on their property from passing city snowplows. It suits both suburban and rural property owners because it can throw the snow so far – 50 ft. off your plowed area. With its big wheels, high-end mechanics and technology, and superior, effortless steering, it is hard to get a better snowblower for the approximate 1200-dollar price tag.
References
1.
Q&A: Which type of snow blower should I buy?
Using a snowblower, aka snow thrower, might be easier than shoveling the white stuff, but it is harder than using a self-propelled mower.
2.
Low-carbon fuel standard - Wikipedia
A low-carbon fuel standard (LCFS) is a rule enacted to reduce carbon intensity in transportation fuels as compared to conventional petroleum fuels, such as gasoline and diesel.